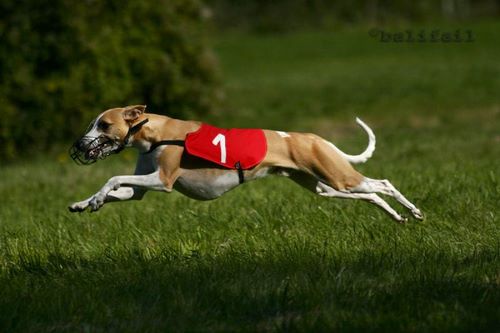 Foto: Marta Koziarowski
Vergangenes Wochenende fand das 1. internationale Coursing des FCW statt und das war auch Marley's erster großer Renneinsatz nach seiner schweren Verletzung. Wie schon erwähnt, wurden wir von Nebel- und Dunstschwaden sowohl zeitig in der Früh bei unserer Ankunft im wunderschönen Ambiente der Freudenauer Rennbahn begrüßt als auch am Abend nach der Siegerehrung verabschiedet. Dazwischen gab's aber viel Sonnenschein – ein wunderschöner Herbsttag!
Bei den Whippets starteten 4 Rüden und 3 Hündinnen und einige Whippets machten Schauläufe darunter auch Kylie vom Kleinen Berg. Pansy (Painted Pansy of Wuthering Heights) absolvierte weitere 2 Lizenzläufe und wir freuen uns schon wenn der kleine Wildfang auch kräftig bei den Bewerben mitmischen kann. Marley war superfit und hätte an diesem Tag noch locker einen dritten Lauf weggesteckt – ganz anders als bei den Bewerben im Sommer, wo aufgrund der heißen Temperaturen zwei Läufe das absolute Limit waren.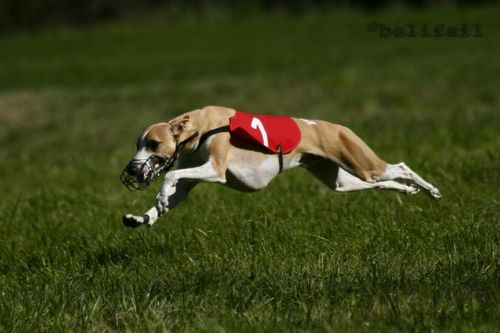 Foto: Marta Koziarowski
Diesesmal gab's einen zweiten Parcour um der höheren Anzahl an Teilnehmern gerecht zu werden – das Gelände in der Freudenau ist sehr gut gepflegt und sicher und einige Büsche und Hecken lassen auch eine interessante Streckenführung zu. Bedingt durch die Sichteinschränkungen am Startplatz konnte ich zwar nicht die ganze Strecke verfolgen, jedoch wurde mir auch berichtet, dass Marley bei beiden Läufen sehr souverän gelaufen ist. Auch liess er sich am Ende den Hasenkill nicht nehmen und war auf jeden Fall voll in seinem Element. 🙂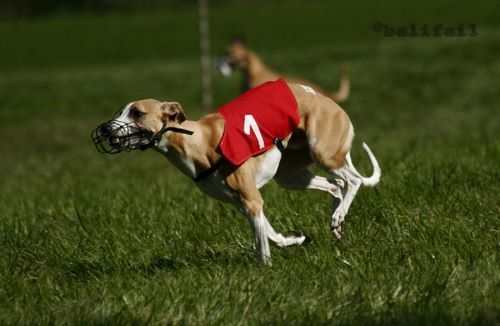 Foto: Marta Koziarowski
Mit 185 Punkten im ersten Lauf und 169 Punkten im zweiten, konnte Marley sich den 3. Platz erlaufen – hinter dem Coursingprofi Nash (Nash Bridges of Wuthering Heights) und der niederländischen Hündin "Storktown's Supersister", die die beiden Jungs ausboten konnte und als Siegerin aus diesem 1. Internationalen Coursing des FCW hervorging.
(Mehr Fotos gibt's in meinem Flickr Set bzw. bei Martas Fotos).